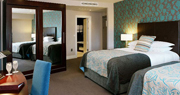 The Ross
Town Centre
Killarney
Co Kerry
Ireland

Tel: +353 (0)64 6631855
Fax: +353 (0)64 6627633

A seamless fusion of luxury and cool, The Ross provides the services and amenities of a luxury hotel within a stylish and chic environment.
Whether your visit is for work or for pleasure, The Ross boasts luxury Killarney accommodation, providing superb facilities with a touch of Irish luxury and all with a warm, friendly Irish welcome. Your room at The Ross in Killarney is your home while you are staying with us and our aim is for that time to be as relaxing and as easy as possible.
A good bed and a good shower or bath are cited time and again as the most important elements of a hotel stay and at this Killarney Hotel these are of the utmost importance to us. Our king size beds with crisp, fresh linen and luxurious tactile throws ensure a full nights rest for the body, soul and mind. Each room is designed with comfort and relaxation in mind yet with thoughtful extra amenities such as built in US adaptors, air conditioning, complimentary in room internet access and plasma TV's as standard to enhance your stay with us.
Let us assist you in anything we can, let us enhance your experience and visit to Kerry and Ireland. Choose from deluxe rooms or suites at The Ross, luxury Killarney accommodation at affordable prices.
At The Ross in Killarney, our central location combined with the chic and stylish interiors and the friendliness of our staff ensures the perfect venue for a night out or a night in!
Eating and drinking good food and wine in the company of friends is one of life's simplest and most enjoyable pleasures and both The Lane Café Bar and Cellar One Restaurant in Killarney at The Ross offer unique yet fun options for all kinds of dining experiences.
It is in these spaces that the boutique nature of the hotel really comes alive with the innovative, clever and exciting use of materials, fabrics and furnishings throughout the hotels public areas. From a hearty or healthy Irish breakfast to mid morning cappuccinos, lazy lunches outside on the laneway or afternoon tea cakes and pastries in the lounge and moving on finally to a simple display of our excellent Irish produce in the evening, all aspects of the palate and time of the day are catered for by our easygoing staff at our Killarney restaurants, a perfect choice for eating out in Killarney.
For guests at The Ross, you are invited to experience The Spa at The Killarney Park spa hotel in Killarney, our five star sister hotel which is located only 200 meters across the road from The Ross and offers world class spa facilities and amenities.
From the moment you enter this Killarney Spa, your senses are lulled into a state of relaxation, the soft scent of essential oils burning, the deep, luxurious carpet underfoot, the warm Irish welcome from our therapists, calming melodies playing softly in the background and the comfort of the heavy robes and slippers
At the Spa at the Killarney Park Hotel, we have eight treatment rooms offering a wide range of treatments and therapies and using Elemis and Eve Lom products to rejuvenate and reinvigorate your body and soul.
The leisure facilities at the Killarney Park Hotel are also fully available to guests of The Ross and include an indoor heated 20 metre swimming pool, gymnasium, sauna, Jacuzzi, bubble pool and outdoor hot tub. The leisure facilities are an ideal option for our families and those who would like to relax after a days golfing, walking or hiking in the surrounding areas.
The outdoor hot tub located in the rooftop garden at The Ross is an intimate yet stunning setting for a small group of friends or a couple to enjoy again after a day of exploring and adventure in the magnificent region of Kerry. The rooftop garden offers dramatic views of the mountains and parkland surrounding Killarney and also the ancient church spires of the town rising majestically above all they survey.
This luxury health spa in Killarney offers treatements for men and women along with exotic spa rituals, with a spa package to suit everyone, The Ross is an ideal choice for your relaxing hotel and spa break in Killarney County Kerry.