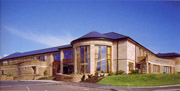 Seagoe Hotel
Upper Church Lane
Portadown
Co. Armagh
N. Ireland
BT63 SJE
Tel: +44 (0)28 3833 3076
Fax: +44 (0)28 3835 0210

Attractively situated in generous grounds with secure parking for 140 cars, the luxuriously appointed Seagoe Hotel is the Orchard County of Armagh's best kept secret. Spectacularly reincarnated by its new owners, this innovative and contemporary designed 34 bedroom hotel, conference, leisure and entertainment complex combines style and sophistication with a casual elegance.
Its private and secluded setting is complemented by its practicality, positioned as it is, close to the M1 slip road and within easy reach of the International Airport.
From the moment you enter the Seagoe's impressive foyer, the impression is one of attention to detail, the integrity of the design and fit out being matched by by the professionalism and friendliness of the personnel team. The entire hotel has been thoughtfully designed for easy wheelchair access featuring lifts and other disabled facilities, including two purpose-built ground floor bedrooms.
The ambience of luxury and comfort underlines the quality of welcome which awaits business, private and family visitors alike. An atmosphere of relaxation pervades the foyer and cafe / bar area with its calming view overlooking the tranquil Japanese garden terrace.
Comfort and luxury are again the theme in the Seagoe's 34 beautifully appointed bedrooms, including two purpose-built ground floor rooms with easy access to the rest of the hotel for disabled guests.
All feature king size bed, satellite TV, safe and hair dryer.
As you would expect, there are two bridal suites with Jacuzzis and two executive suites with modem and fax facilities for business users.