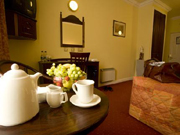 Ripley Court Hotel
37 Talbot Street
Dublin 1
Ireland

Tel: +353 (0)1 836 5892
Fax: +353 (0)1 856 1182

Welcome to Ripley Court Hotel in Dublin City Centre.
This charming 100 executive bedroom is located right in the very heart of Dublin city.
As one of the most conveniently located hotels in Dublin City Centre we are within a few minutes walking distance of many Dublin City Centre attractions, such as Temple Bar, O'Connell Street and the Dublin Convention Centre. For concert goers and sport fans The Ripley Court Hotel Dublin City is conveniently located near the O2 and only 15 minutes walking distance from Croke Park.
The city's light rail system (The Luas) is only a minute away which makes The Ripley Court Hotel the ideal base for exploring what the city has to offer.
The 747 and Aircoach both service The Ripley Court Hotel on route to the central bus station (Bus Aras) which is located just a minutes walk from the hotel also.
At The Ripley Court Hotel, we are famed for our hospitality and a warm welcome awaits all our guests. Famed for our hospitality, The Ripley Court undoubtedly earns it's reputation as one of the finest hotels in Dublin and provides you with the perfect base from which to enjoy your Dublin experience.
Book one of the most centrally located hotels in Dublin City now!
All areas are wheelchair accessible