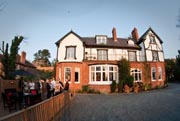 Rayanne House
60 Demesne Road
Holywood/Belfast
Co. Down
Northern Ireland
BT18 9EX
Tel: +44 (0)28 9042 5859

Rayanne House is a Multi Award Winning Guest House and Private Restaurant with a boutique feel where history meets today. Book your stay and enjoy the best breakfast in Northern Ireland.
We are ideally situated just 3 miles from Royal Belfast Golf Club.

Rayanne House isn't your typical bed and breakfast accommodation. We are located just a few minutes from George Best City airport and provide a relaxed and tranquil environment for our guests, away from the hustle and bustle of the City Centre. At the same time, we're still within arms reach of the exciting night-life and amenities in Belfast and our own town, Holywood, hosts a range of restaurants, shops and bars within a 10 minute walk from the front door.
Each of our spacious and comfortable rooms have modern features and facilities but we have made an effort to maintain the beautiful features of the original Victorian house, retaining the original fireplaces, wall murals, the stained glass windows and even some of the ornate ornaments.
All of our bedrooms come with an ensuite bathroom and are decorated to the highest standard.
At Rayanne House we offer private dining for a minimum of 10 people with a maximum of 36. This perfect, period location offers private dining room and surroundings to create a unique culinary experience.
Listed in the Top 10 Best Destination Restaurants in Ireland by 'The Food and Wine Magazine' at the Restaurant of the Year awards in 2017, Rayanne House is renowned for its excellent food and brilliant service. Winner of The Irish Restaurant association Award for Best Hotel Restaurant and Customer Service 2017.
Fine dining is perfect for a variety of special events including corporate events, birthdays, weddings, product launches, business dining and family gatherings. We cater for a minimum of 10 people and a maximum of 36.
Stay in 'Northern Ireland's first 5 star Guest House'. Enjoy luxurious en suite bedrooms, an award winning breakfast and a genuine warm welcome. You won't regret it for one second.
Holywood is home to Ireland's oldest golf club and Holywood Golf Club is home to the World Famous Golfer Rory McIlroy. A golfer's paradise awaits you!