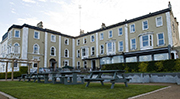 Haddington House
Dun Laoghaire
County Dublin
Ireland

Tel: +353 (0)1 280 1810

The Haddington is an elegant 50 bedroom three star hotel with incredible views over Dun Laoghaire bay.
Originally four Georgian townhouses the hotel began its life as Haddington House (a finishing school for Ladies) before being converted into a hotel in the 1950s. In 2011 we at Oliveto Restaurant (a local favourite) took over all the food and beverage operations in the hotel and extended our reach in August 2015 to the entire hotel.
We have rebranded the hotel under The Haddington name and are in the process of upgrading the bedrooms and other areas within the building.
Our aim is to bring you the perfect destination from which to enjoy the best of what this beautiful part of Dublin has to offer – a boutique hotel by the sea allowing diners, business travelers, tourists and culture seekers to all happily interact and have a memorable time.
We are in a transitionary phase and this website is temporary while we amalgamate the Kingston and Oliveto websites.