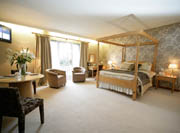 Dunadry Hotel
2 Islandreagh Drive
Dunadry
Antrim
County Antrim
Northern Ireland
BT41 2HA
Tel: +44 (0)28 9443 4343
Fax: +44 (0)28 9443 3389

A grand and homely place is a true rarity, and the Dunadry Hotel is unlike any other.
A four-star hotel built on the site of an ancient fort and once home to both paper and linen mills, the Dunadry Hotel is rich with stories of times past.
For some, we've had the privilege of hosting the happiest days of their lives. For others, the Dunadry is home to fond memories of reunions and celebrations. We warmly invite you to share your story with us; to become a piece of our history here; to help us create new memories in this rare and beautiful place.
Each of the 83 bedrooms is luxuriously equipped with en suite facilities and every modern convenience. What's more, each has its own tale to tell, with beautiful hand carved furniture and decor encapsulating the hotel's rich and interesting past.
The rooms are stylishly designed, spacious and airy and many have French windows leading out to the beautifully landscaped gardens or the peaceful inner courtyard – perfect for taking a romantic stroll or finding the ideal retreat at the end of the day.