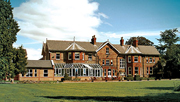 Burn Hall Hotel & Conference Centre
Tollerton Road
Huby
York
England
YO61 1JB
Tel: +44 (0)1347 825 400

Visit Burn Hall and you will discover a hotel offering something a little different. Set in the heart of North Yorkshire, Burn Hall has earned an outstanding reputation for it's level of customer service. The experienced team offer dedication, flexibility and attention to details to ensure that your expectations are exceeded at all times.
Fine food, comfortable accommodation and a very warm Yorkshire welcome will make your experience unforgettable. Whether it is a leisure break to escape the pressures of modern living, a celebration with family or friends, a wedding day of your dreams or maybe a business event that needs a professional touch, Burn Hall is the perfect venue for you.
Burn Hall has 94 en-suite bedrooms including 2 King Size Suites. A number of rooms have been specially designed for disabled access. All rooms are furnished to a high standard and have the following features:
Direct Dial TelephoneTea/Coffee making facilities24 hour room serviceFlat screen colour television with FreeviewDial up internet connection (with network cable)Hair dryerWelcome Information Guide
If you have any specific requirements or would like to make your stay extra special with a bottle of champagne, chocolates or even a birthday cake, Burn Hall's reservation team will be happy to oblige.
Open to both residential and non-residential guests, Benson's Bar offers a friendly, intimate atmosphere. With a modern design and stylish interior, Benson's is the perfect place to relax and enjoy a new level of comfort. You will find a wide choice of beverages, including specialist ales and a fantastic cocktail list. Benson's also offers a selection of light bites and bar snacks.