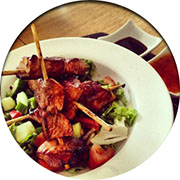 Ardennan House Hotel
Port Elphinstone
Old Kemnay Road
Inverurie
Aberdeenshire
AB51 3XD
Tel: +44 (0)1467 621 502

The Ardennan House Hotel is located on the edge of Inverurie in Aberdeenshire. We are only 11.5 miles from Aberdeen Airport and being within Aberdeen's Oil Industry it makes our hotel perfect for working and relaxing.
Dating back to the 18th century, we are an independent family hotel with our main priority being to offer our guests an ideal place to relax in our comfortable rooms and of course to provide first class service to make you feel welcome.
We deliver quality food in our restaurant to enhance your stay further, serving a variety of dishes to suit all tastes and a selection of wines to complement your meal.
Since acquiring the hotel in July 2011, the exciting new owners Jennifer and Andy McIntosh have taken great pride in refurbishing the hotel to high standard to ensure all guests are provided with facilities which make their stay enjoyable and relaxing.
You'll find everything you need for the perfect stay at Ardennan House Hotel:
16 rooms available with tea and coffee making facilities and flat screen TVs
Restaurant with a wide selection of dishes
Free Wi-Fi throughout the building
Private on-site parking
Invevurie Golf Club within 5 minute drive of the hotel

At the Ardennan House Hotel, we have everything you need to make your stay as comfortable and relaxing as possible:
We have a range of options to suit your specific requirements and our rooms are beautifully decorated with modern furnishings to create a comfortable space for you to relax. For your comfort, all of our rooms are fully non-smoking, as well as the public areas throughout the hotel.
Hotel Room Facilities
Ensuite with shower
Flat Screen digital TV
Tea and Coffee making facilities
Hair Dryer
Packed lunches available to be made for guests
Ironing service on request
Complimentary toiletries
Newspapers
All children under 2 years stay free

With our varied menu, you'll be spoilt for choice at the Ardennan House Hotel.
Our chefs prepare all meals to order, using high quality ingredients to ensure you get the best experience possible, catering for almost any taste and with a range of vegetarian options in addition.
We make an ideal choice for all occasions.
If you're looking to celebrate a special occasion we cater for large parties
Enjoy an evening meal with the family
Or a quality Sunday Roast (Lunch and Dinner)