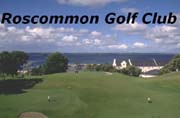 Roscommon Golf Club
Mote Park
Roscommon
Ireland

Tel: +353 (0)903 26382
Roscommon Golf Club was established in 1904. Located near the old Mote Park Estate on beautiful parkland, this outstanding eighteen hole championship course is situated within half a mile of Roscommon town. Roscommon was originally a nine-hole course, but in 1991 the members bought an additional 58 acres of land and the course, under the guidance of Eddie Connaughton, Architect, was extended to include nine additional new holes. The blend of old and new has been a great success, creating an exciting and demanding new challenge over a 6,290 metre course.
This success was achieved by cleverly interspersing the new holes throughout the old course. In addition, an innovative tree planting programme was established as soon as the new land was purchased. This complemented the existing mature plantations and now features a fine selection of sycamore, ash, beech and whitethorn trees in abundance.
In 1995/6 a fine new clubhouse was built after a major fire, and just last year the original nine green complexes were remodelled by Ken Kearney, Architect, with these now re-opened for play April 2009. It is major developments like these that culminate in an eighteen hole championship course to be proud of.