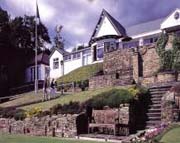 Ilkley Golf Club
Nesfield Road
Myddleton
Ilkley
West Yorkshire
LS29 0BE
Tel: +44 (0)1943 600214
Welcome to one of the finest golf clubs in Yorkshire, both in terms of beauty and as a test of golf. Ilkley Golf Club is where honorary life member Colin Montgomerie learnt his golf. It is also proud to have Mark James as an honorary life member.
With a par of 69 and a standard scratch of 70, this 6262 yard course is a great deal more difficult than it first may appear. Testament to this is the fact that the course record for a professional is only 64 and was set in 2000 by honorary life member Colin Montgomerie, one of the best golfers in the world. Ilkley is one of the most popular golf clubs for visitors in Yorkshire and if you experience it for yourself you will understand why.
As soon as you arrive you will be made to feel extremely welcome by our professional Andrew Driver and his team and by our bar and catering team, who have a fully stocked bar and a range of menus to cater for your party throughout the day, from arrival to the evening meal.
The course itself is wonderful and makes people return time after time.
It is extremely picturesque with its gentle contours and meandering river set against a backdrop of Ilkley Moor. However, in addition to its breathtaking beauty the course is a wonderful test of golf, whatever your ability.
There is excellent and varied accommodation available in the area.
As we are popular with visitors and parties it is always advisable to book in advance by emailing honsec@ilkleygolfclub.co.uk or telephone 01943 600214.
Click here for our for our current Green Fees.
The Clubhouse, which is situated overlooking the eighteenth, has wonderful views of the course and the famous Ilkley Moor. Many have said that there is not a finer view in the world.