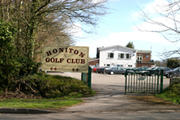 Honiton Golf Club
Middlehills
Honiton
Devon
EX14 9TR
Tel: +44 (0)1404 44422
Honiton Golf Club is a lovely course set high in the hills to the east of Honiton town with splendid views across to the Blackdowns. Established in 1896 the greens are maintained in excellent condition as are the fairways. The fourth tee is the first technical challenge with a number of others starting out tight.
Although in the hills the course itself is relatively flat to play, but it does boast beautiful views in all directions, and benefits include smart clubhouse facilities with a friendly atmosphere.
The key to playing Honiton is to hit straight as trees and water hazards await any wayward tee shot.
From a relatively easy start the course shows its teeth on the 4th hole, a 213yd par 3 over trees to a tricky green. Further long par 3's are encountered at the 7th, and 10th holes. Play these well and you are set up for a rewarding score providing you can hold your game together over the challenging finishing holes.
Placement of the tee shot is vital on the 13th, a birdie is always a possibility the short par 5 14th. the challenge is then to score well over the closing four holes where many cards have been ruined. But be assured whatever your score a warm welcome awaits at the 19th hole.