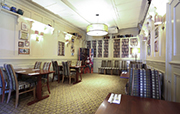 Worplesdon Place
Perry Hill
Worplesdon
Guildford
Surrey
GU3 3RY
Tel: +44 (0)1483 232 407

Perfectly situated for your golf break with 30 golf courses within 10 miles of the hotel!
Worplesdon Place is a hotel, bar and restaurant on the outskirts of Guildford in Surrey with 29 comfortable, en suite bedrooms and a honeymoon suite, as well as a restaurant, lounge and bar. The Hotel is an early 19th Century manor house and is set in superb grounds with a large garden, a lake and its own resident family of black swans – which makes it an excellent venue for weddings.
We have recently embarked on the full renovation of the whole hotel - both inside and out. We have restored the front façade and completely rebuilt 8 new rooms in both the old building and the more recent extension. The new rooms are refurbished in a modern, clean and bright scheme and each one is "Bespoke", specifically tailored to the character and quirks of the original building. All our other existing en suite bedrooms, which are yet to be refurbished, are a remnant of the previous management (Premiere Inn) and are simply decorated with all of the amenities that you need for a comfortable stay. We hope to have more newly refurbished rooms coming online very soon.
We have large family bedrooms as well as a brand new Bridal/Honeymoon Suite - The Victorian Room.
There is WiFi and free parking available, so whether you are here for business or for leisure you will find that we have everything you need for a pleasant and convenient stay.
Worplesdon Village
If you are looking for a peaceful spot near Surrey to enjoy a drink and some bar food with friends or family, then check out Worplesdon Place. We have a spacious bar where there is always a good atmosphere, and a very wide selection of beers, wines and spirits. There is also a stunning terrace and garden with lake, so you can enjoy an al fresco drink and bar-meal in spring, summer and autumn.
We serve teas and specialist coffees in the bar throughout the day, and we are also open early for breakfast.
This is an excellent meeting place – close to Guildford, the M3 and the M25 – if you are meeting a business colleague close to London.
The village of Worplesdon is just on the outskirts of Guildford, Surrey. Guildford is an excellent setting for a weekend break as it is close enough to have a day out or see a show in London and is close to the many family attractions in Surrey such as Thorpe Park and Chessington. There is shopping in Guildford, and days out in the countryside.