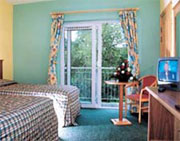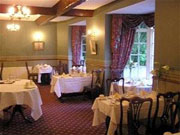 Woodenbridge Hotel & Lodge
Vale of Avoca
Arklow
Co. Wicklow
Ireland

Tel: +353 (0)402 35146
Fax: +353 (0)402 35573

For those who like Golfing Holidays, the Woodenbridge Hotel is a must. Situated directly across the road from Woodenbridge Golf Club and conveniently located to the European Club, Blainroe, Arklow, Coolattin and Courtown Golf Clubs, the golfer is spoiled for choice.
What's more, all he or she has to do is concentrate on the game - we will do the rest. We will book your courses and tee times, having tailored a golfing package precisely to your wishes.
Woodenbridge Hotel and Lodge offers an extensive range of function facilities across the entire spectrum covering family occasions, social and community gatherings and all corporate functions.
The Woodenbridge Hotel features 23 beautifully appointed en suite bedroms.
All rooms have direct dial telephone, colour television, hair dryer and tea/coffee making facilities. These spacious, comfortable and well appointed bedrooms offer the highest standard of accommodation in South Wicklow.
Nine of which have their own balconies overlooking some of the most spectacular scenery in Ireland.
Sheltered by Wicklow's rolling hills and nestling sleepily in the picturesque Vale of Avoca you will find Woodenbridge Lodge.

From the exterior this 40 room hotel is the perfect evocation of secluded serenity.
To the rear you will hear the gentle sounds of the Avoca River as it dissects the valley and flows relentlessly onwards towards the sea.
Offering 40 en suite bedrooms in addition to attractive Bar and Bistro facilities, Woodenbridge Lodge is the ideal setting for a family get together or an intimate and peaceful break away from the tensions and pressures of life.
For group breaks and golfing parties this hotel is unequalled as the surrounding hinterland offers a multiplicity of choice. Directly across the road is the famed Woodenbridge Golf Club, one of Ireland's oldest clubs and unquestionably the most picturesque.