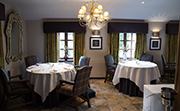 Winteringham Fields
1 Silver Street
Winteringham
North Lincolnshire
DN15 9ND
Tel: +44 (0)1724 733096

People travel great distances to get here, but the food never does. Whether it's leaping fresh from the salted sea, grown in the earth of our humble farm, or reared on the fields of local purveyors, our food is rooted in local nature. To these raw, fresh ingredients, Colin McGurran and his masterful chefs devote their time, ingenuity and rare talent to create something new every season. A menu that playfully tweaks, cleverly replicates—but always deeply respects—nature and the seasons.
From farm to fork, we take every opportunity to add flavour. That means tending, preparing and cooking each ingredient with the same level of care and precision. So when it reaches your table—whether it's meat, vegetable, pulse, grain or non-dairy—it's the freshest and finest you've ever tasted.

Wine & drinks
A master sommelier's selection
If you truly want to experience Winteringham Fields to the fullest, we recommend indulging in our sommelier's exclusive selection.
Personally handpicked and introduced to you by our master sommelier, our bespoke by-the-glass wines perfectly balance, refresh and intensify each stage of your six or eight-course journey.
We also offer an extensive wine list, where you'll find all the classic favourites and vintage delicacies you would expect, as well as hidden treasures you're yet to experience.
Whether you're vegan, vegetarian, pescatarian, diabetic, gluten-free or coeliac. Whether you're a table of two, or a large party all with different dietary needs. If you let us know when you book your table, Colin and his chefs will prepare your meal to suit your taste, allergy, diet and choice.
The 16th century Main House boasts elegantly decorated king and double rooms. Each features original oak beams, and is well equipped with plush furnishings, en-suites and all of life's little luxuries.

The moment you unlock the door and step into your room, you'll know it was worth the journey to get here. Lovingly decorated, generously appointed, sumptuously furnished, our suites offer all the luxuries you would expect from a boutique hotel. And with our restaurant on your doorstep, stunning views of natural beauty at every turn, you'll have found the perfect secret haven for your relaxing getaway.
Welcoming, warming, natural: our leafy, peaceful Courtyard is home to king, super king and twin rooms. For a truly special experience, stay in one of our spacious, luxuriously appointed suites, with super king-sized beds, double sofas and walk-in showers.
Nestled in the beautiful, sleepy village, just a short one to two-minute walk from our restaurant, Dovecotes is the perfect hideaway for a restful, relaxing break. Choose from double, king size, corner bed and open plan rooms with en-suites, double walk-in showers and slipper baths.