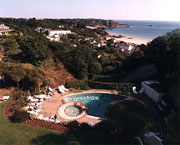 Windmills Hotel
Mont Gras d'Eau
St. Brelade
Jersey
Channel Islands
JE3 8ED
Tel: +44 (0)1534 744201
Fax: +44 (0)1534 744202

In addition to it's spectacular views, the hotel is set in the heart of the southwest corner of Jersey. Here you'll find many of Jersey's newest leisure facilities, watersports, golf courses, scenic walks and green lanes, sites of historical interest, shopping centres, pubs and restaurants.
St Brelade's Bay, itself, is Jersey's most popular and is linked to even more glorious bays and sandy beaches – among the cleanest and safest in Europe.
Beautiful and unspoilt, safe and friendly, Jersey is only 36 square miles so none of her many attractions are far away.
Visit the world famous Jersey Zoo, award winning museums and castles or just take in the islands beautiful scenery and unique history.
Why not combine your visit with an International Food Festival, World Music Festival, Jersey's famous Battle of Flowers or one of the other special events that occur throughout the year.
The Windmills Hotel offers you the ideal setting from which to enjoy it all or to do nothing but relax in our gardens, around the pool or on the sun terraces.
Within easy reach of golf courses and local leisure facilities.