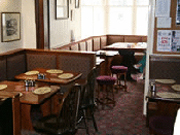 The White Hart Hotel
Fore Street
Holsworthy
Devon
England
EX22 6EB
Tel: +44 (0)1409 253 475

The White Hart is a family run free house establishment with real ales, including some special ales from our local breweries - these are really worth trying!
The White Hart Hotel have seven (7) letting rooms available and can be booked on a single, twin or double occupancy basis. We have a Bed & Breakfast (B&B) option with a Full English to start the day!
Food is served daily from 11.30 am till 2.30 pm and again from 6.30 pm till 9.30 pm. Breakfast from 10am Sundays. Food is available outside of these times by prior arrangement.
The main bar area is ideal for a quick lunch, we see many local business people on a regular basis - you are very welcome to pre-order! It's also a friendly atmosphere for a sociable evening meal.