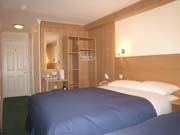 West Cromwell Hotel
Earls Court
London
England
SW5 9QS
Tel: +44 (0)207 373 8853
Fax: +44 (0)207 244 6680

West Cromwell Hotel is a cheap small family run London hotel featuring 21 guest rooms, ideal for London museums, Kensington Palace, and Earls Court Exhibition Centre.
Located in the heart of central London in Kensington & Chelsea, southwest of Hyde Park, the Earl's Court Tube Station is about 5 minutes' walk away.
The budget rooms have new beds and bathrooms, and plenty of modern facilities, providing great value for money - for both business and leisure travellers to London. There is a 24-hour supermarket nearby to the hotel.
Wi-Fi Internet access is available throughout the entire hotel, charges apply.
Our staff are extremely friendly and are always on hand to help with any queries you may have during your stay. Book Online for great deals and discounted room rates.
We look forward to welcoming you at the West Cromwell Hotel.