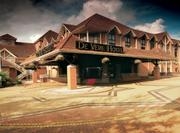 Village Urban Resorts Swindon
Shaw Ridge Leisure Park
Whitehill Way
Swindon
Wiltshire
England
SN5 7DW
Tel: +44 (0)1793 279470

Designed with your comfort in mind, Shaw Ridge offers good food and wine, leisure facilities and Health & Beauty treatments for the most enjoyable of stays.
But that's not the only reason to come to Shaw Ridge.
This part of England has an amazing array of things to do and places to see.151 en suite, free high speed internet access, TV with Sky Channels, DDI Telephones, tea and coffee tray.
Full gym, pool, spa and sauna and steam room, health and beauty suite.