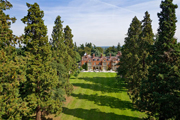 Tylney Hall
Rotherwick
Hook
Hampshire
England
RG27 9AZ
Tel: +44 (0)1256 764881

Tylney Hall is a Grade II listed building and remains an outstanding example of a luxury country house hotel that has never lost its old world sense of charm.When you arrive at Tylney Hall Hotel, Hampshire, you are swept along a tree-lined avenue and then all at once the magnificent Victorian era mansion house appears, its full beauty slowly revealed as you drive through the avenue of trees that frames the approach.
At first sight the main hall immediately takes you back to an age of elegance and gracious living. Step through the entrance archway and you emerge into the reception area which sets the scene. Your eye is greeted with floor to ceiling walnut panelling that sweeps up the magnificent staircase creating a splendour and warmth of welcome that belongs to a bygone era. Hampshire hotels simply don't come any grander or offer such heights of luxury anywhere in the UK.
Luxury hotels in Hampshire come in many guises, but what makes Tylney Hall Hotel so special is its period ambience, and walking into your room or suite for the first time is a little like stepping back in time. In the main Hall the suites and rooms lead off the magnificent wooden staircase that rises from the reception area.
Each room is a little world unto itself, and has been decorated and furnished individually with period pieces to enhance its own particular charm. Sweep back the heavy drapes that frame the high period windows in many of the rooms and you will be rewarded with breathtaking views of the rolling Hampshire countryside.
Contrasting levels of luxury include our Deluxe Bedrooms which offer twin beds or a queen sized bed, relaxed seating and work desk. While our suites offer additional private dining areas, lounges and office spaces to suit all requirements. Or you can really push the boat out and elect to stay in our Duke and Duchess Suites which are unashamedly luxurious with wood panelled walls, four poster beds and whirlpool baths.
Being so close to our neighbouring county means those looking for a beautiful Spa in Surrey need look no further.
The Health Suite stands in what used to be the stables of the house and offers a wide range of relaxing treatments including pedicures, facials, top to toe body treatments and massages, as well as our very own rejuvenating signature treatments.
What better way to spend a spare hour than by indulging yourself with a rejuvenating beauty or health treatment under the expert hands of one of our experienced therapists. Or spoil yourself completely with a whole day's pampering that will help you feel that you leave walking on air. Spa days in Hampshire and Basingstoke, or Surrey for that matter, don't come more relaxing.
If you're feeling a little more energetic there is also a well equipped gymnasium and an indoor pool to help sooth away any stresses of the day.
Our outdoor swimming pool is tucked away in its own walled courtyard and has been described by no less an authority than The Times as being one of "the coolest pools in Britain". It stands in the shadow of the main Hall and its poolside loungers attract just as many sun worshippers as swimmers. Being something of a sun trap, it also makes a quiet spot to relax and enjoy an evening drink.