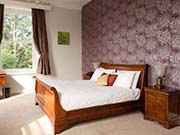 The Thomas Paine Hotel, Restaurant & Bar
33 Whitehart St
Thetford
Norfolk
IP24 1AA
Tel: +44 (0)1842 750372
Fax: +44 (0)1842 824542

The hotels accommodation provides 8 uniquely styled Boutique Bedrooms. All have been re-furbished to a very high standard with comfortable king size beds, luxury furnishings and the attention to detail that makes a stay special. Our prices are very reasonable and during the online booking process here you will be given the flexible option of taking Room Only, Bed & Breakfast or Dinner Bed & Breakfast Accommodation Rates.
A far cry from the corporate brand hotels, we are privately owned, so every room is individual. Each room has a large walk in shower, heated towel rails and razor point in the bathroom. All rooms have flat screen TV, tea and coffee making facilities and hairdryer. WiFi is available throughout the hotel and is free to use. There are 20 free parking spaces available.
Interestingly we are only 1 mile from Thetford Golf Club and are often used as a base for golfers.
We have the following accommodation types available, do take a look at the bedroom picture gallery below.
Double Rooms.
Twin Rooms.
Superior Double.
Luxury Double.
Family Rooms.
All available for Single or Double Occupancy.
Long or Short Stay.
Inclusive or Exclusive of Meals.