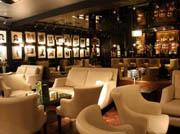 The Vincent
98 Lord Street
Southport
England
PR8 1JR
Tel: +44 (0)1704 883800
Fax: +44 (0)1704 883830

The Vincent opened its doors in June 2008 - a unique lifestyle hotel for the North West of England.
Situated on Lord Street, Southport's Parisienne Boulevard, the Vincent takes comfort and personal service to new heights - all within a fresh, stylish and contemporary interior.
Whether you're in the North West on business or pleasure, the Vincent is yours to enjoy. Cool, contemporary and stylish, the Vincent brings a new twist to hospitality in the region.
From the moment you step into the hotel from Southport's Lord Street, you'll be our priority. Created for today's traveller, the Vincent is different from any other hotel you've stayed in.
Six floors of tranquility - a boutique hotel with 60 guest studios, residences and penthouses, a destination V Cafe & Sushi Bar, the V-Spa and V-Gym, and the V-Galleria Suites for weddings and corporate events.
The guestrooms at the Vincent are cool and stylish - in fact we're not calling them "bedrooms" at all. From the V-Residence, a comfortable and contemporary room all the way through to our V-Penthouse.
Sink into the ultra-comfortable King-size or Twin beds, and surround yourself with specially selected Frette cotton sheets. State-of-the-art technology is everywhere FREE high speed internet access, Wall mounted HD - LCD TV's, workstations, the latest Pay-per View Blockbuster movies and two direct dial telephone points. You even have the ability to interconnect selected rooms to create more living space.
Space to sleep, to work, and play.
The Vincent V Cafe & Sushi Bar breaks new ground. The cosmopolitan V Cafe & Sushi Bar starts its day from 7am to awaken your senses with continental breakfast and our own specially blended coffee, a "cappuccino meeting", light lunch or all the way through to winding down after work with friends or colleagues.