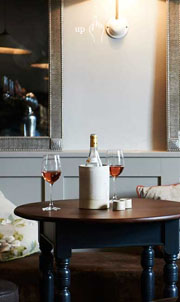 The Swan
Cheddar Road
Wedmore
Somerset
BS28 4EQ
Tel: +44 (0)1934 710 337

Welcome to The Swan, our bustling village pub with 6 en-suite bedrooms and an outstanding kitchen led by Tom Blake from River Cottage. We're open all day for a quick drink, a snack or a delicious meal. Come and sit in our bar beside a woodburner, watch the world go by at tables out front, dine in the restaurant or alfresco on the terrace - or just enjoy the peace of the garden.
We have completely refurbished The Swan, sympathetically modernising the building and restoring much of the original eighteenth & nineteenth century architecture. Opening as a Beer House in the early 1700s, the property was subsequently enlarged to become 'The Swan Hotel' from the mid 1800s with rooms, stables and coaching yard. After many years in the hands of indifferent pub companies, The Swan is now firmly back in business!
The Swan has six individually designed and supremely comfortable en-suite guest bedrooms. They are all on the first floor and we have 3 Big rooms, 2 Medium rooms and 1 Small room.
The 3 Big rooms have been decorated in a calm and restful palette of soft neutrals and stony grey tones punctuated with pretty textiles and traditional florals. It's a relaxing but elegant look with six foot divan beds dominating each room and crisp white Egyptian linen and French vintage furniture combining to create a peaceful, informal setting. Two of the large rooms feature cast iron claw-footed baths in the bedrooms and all three large rooms have power showers in their en-suite bathrooms.
By contrast, the three guest bedrooms at the rear of the building have a simpler feel. There's sleek white-painted tongue and groove panelling and airy 60's vibe punctuated with vibrant bursts of colour and textural prints to create a fresh and informal mood. In each en-suite bathrooms simplicity is the key with large wall-mounted basins and deep built-in baths offering a sense of space and minimalism.