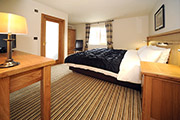 The Star Inn 1744
37 The Green
Thrussington
Leicestershire
England
LE7 4UH
Tel: +44 (0)1664 424220

THE PERFECT LEICESTERSHIRE COUNTRY PUB
Perfectly situated with eight golf courses within ten miles of The Star Inn.
Are you looking for a delightful gastropub to enjoy premium food in country surroundings? The Star Inn in Thrussington is the perfect place. We provide a variety of classic dishes, made from high quality, locally sourced produce, cooked with finesse.
We provide a varied menu of classic dishes, made from high quality, locally sourced produce, cooked with finesse. Situated by the River Wreake, we offer delicious food all year round; you can enjoy the sun in our lovely country pub garden or stay warm by the fires during the winter. As a country pub in Leicestershire, it's the perfect place for family gatherings, a quick lunchtime snack with friends, a Sunday lunch or deluxe country hotel getaway. As a premium gastropub in Leicestershire, we pride ourselves on our excellent customer service, friendly staff and excellent restaurant facilities.
The Star Inn 1744 is not just a country gastropub – it is also a traditional country hotel, providing stylish, modern rooms in a traditional country village setting.
As a Country Hotel in Leicestershire, The Star Inn 1744 boasts 9 ensuite bedrooms, all of which have been designed and furnished to provide a feeling of comfortable modern luxury, which works in contrast to the traditional building and surroundings. All our rooms have been carefully equipped with the following modern facilities, for your convenience and comfort:
Large Comfortable Beds
Bath & Shower
Desk & Chair
Flat Screen TV
Complementary Beverage Tray
Homemade biscuits
Hairdryer
Complimentary Toiletries
Iron
Cot available on request
Free WiFi
Continental Breakfast (cooked breakfast menu available at additional charge)
Our rooms are all ensuite with either Super-King, King or Twin Beds.
We also offer a 'Family Suite' which comprises of a Super-King Room with connecting Single Room (shared bathroom)
Ground Floor Room is available with a Bath and Walk-In shower
Parking – On street parking is readily available with a designated accessible parking space located off-road at the side of the building
WiFi – We offer free WiFi throughout the building
We look forward to welcoming you to The Star Inn in Thrussington, Leicestershire, very soon. For any enquiries or bookings, call 01664 424220.