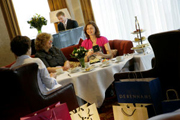 The Savoy Hotel
Henry Street
Limerick City
Ireland

Tel: +353 (0)61 448700
Fax: +353 (0)61 448701

The Savoy Bar located on the ground floor reflects the history of the areas former life as the "Savoy Theatre". The Savoy bar is famous for custom cocktails and it's Grande Marque champagnes.
The Hamptons restaurant, next door to the hotel offers New Yorks style upmarket grillroom and steakhouse.
Market Square Brasserie at The Savoy.
Limerick's newest Private Dining venue at The Savoy Hotel featuring eclectic five star menu's from Chef Murrell. The ultra private venue on the ground floor provides on an exclusive full restaurant environment for both corporate and leisure clients.
The Savoy Limerick City Hotel, is a luxurious boutique property ideally located in the heart of Limerick City. Each of the boutique guestrooms offer amenities that ensure a comfortable stay including luxurious bedding, free wireless, laptop safe and air-conditioning.

The Savoy Hotel features a luxurious lounge on the first floor of the hotel providing light menu offerings throughout the day.
Relax at the Savoy escape, unwind and take time out of your busy schedule and enjoy luxury treatments. Where you can soothe away all your worries & cares. We offer exclusive to our residents complimentary access to our gymnasium. We have all you need for your hotel leisure break so you can relax and unwind or improve your health and fitness in a calm and pleasant environment.
We have extensive spa treatments and original thai massage available 7 days a week.
Whether you are in need of renewal, radiance, replenishment or regeneration - our therapists will assist you in promoting a new sense of health and wellbeing. Together, you can design your perfect journey through spring, summer, autumn and winter.