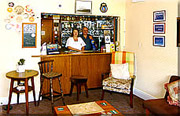 The Sandgate
44, Drummond Road
Skegness
Lincoilnshire
England
PE25 3EB
Tel: +44 (0)1754 762667

At The SANDGATE you start the day with a 3 course English breakfast plus tea or coffee. In the evening dinner is a full 4 course meal plus tea or coffee. Special diets (Diabetics etc.) catered for if prior notice is given.
We are ideally situated on Drummond Road, close to the Town's Shopping Centre, Bowling Greens, Clock Tower and Sea Front. We offer a warm welcome, with comfortable bedrooms, thermostatically controlled central heating radiators and hot and cold water.
The Sandgate is strictly NO SMOKING throughout.
Ample free Car Parking is available.
The Sandgate has a full fire certificate and hygiene certificate, licensed lounge bar for residents and a TV. Lounge.
We have family rooms and children up to 12 years old half price, and 12 to 16 years old are three-quarter price when sharing with adults. Most accommodation is en-suite, please enquire when reserving.
Small children and babies are always welcome.
We are open from February to December, starting St. Valentines weekend through to Christmas weekends in December and a special Christmas & New Year break.
Unfortunatly we are unable to accommodate your pets.
Colour T.V. in all bedrooms.
Special reductions for senior citizens during low season.
Mini break price on request.