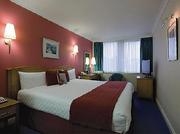 The Royal Trafalgar, London
Whitcomb Street
Trafalgar Square
London
England
WC2H 7HG
Tel: +44 (0)845 305 8336
Fax: +44 (0)845 305 8375

The four star Royal Trafalgar Hotel is located near Trafalgar Square and Whitehall and immediately near The National Gallery.
If business travel brings you to Trafalgar Square, the Royal Trafalgar is perfectly situated to access your business meetings.
If leisure travel brings you to the Hotel, we are located in the center of the theatres and attractions, near Piccadilly Circus, Charing Cross and Leicester Square underground stations. We have 108 bedrooms, all of which have recently been refurbished to reflect; a contemporary colour palette and vibrant soft furnishings with state of the art technology including LCD TV and Wi-Fi access.
Our Squares Restaurant and Gravity Bar have also been refurbished and guests can enjoy a drink or a bite to eat in relaxing surroundings away from the hustle and bustle of the nearby streets.
Whether you're here on business or a weekend break, shopping, theatres, sightseeing and culture are all around you. This is the perfect base from which to explore. Piccadilly and Leicester Square underground stations are 5 minutes away.