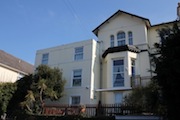 The Richwood
20 Newton Road
Torquay
Devon
England
TQ2 5BZ
Tel: +44 (0)1803 293729

Winner of the 2013 English Riviera & South Devon Bronze Tourism Award for Excellence in Customer Service, the Richwood was in the top 10% of all UK businesses on TripAdvisor 2013 and has a 5 star Food Hygiene Certificate.
The Richwood was also featured in Channel 4s FourinaBed.
From the front, the Richwood does not do justice to its size. Inside there seems to be a warren of halls, stairs and corridors leading to the rooms; in the main building the walls are up to a meter thick.
The Richwood, named after one the earlier owners, was built in the Victorian era as a holiday residence for a family of the London gentry. At some point in the thirties the building was turned into a hotel.
The Richwood also has an aquarium with many beautiful tropical fish in the Beirut-Bistro-Bar.
All 14 bedrooms are ensuite, have colour TV with Digital Video Disc players and tea and coffee making facilities.
Ideal for families,there are reduced terms for children when sharing with parents.
You want to enjoy the nightlife and attractions that Devon has to offer? Or just want a quiet break? …Then the Richwood is the place to be.
The Richwood is situated 10 to15 foot minutes from the seafront and town centre and just 2 miles from Torquay Golf Club.
The bar - now the Beirut Bistro-Bar - has been revamped and is a really cozy place for a drink and an evening meal.
The heated swimming pool with its Spa has been renovated within the last four years.
Special Offers: for our free night deals see our webpage.
To make people aware of the fine Lebanese cuisine you can enjoy in the Richwood, the front of the building and boundary walls are graced with murals of Baalbek in Lebanon: one of the oldest and largest roman ruins in the Middle-East. The facade has been renovated and the Richwood is now a beautiful, warm, Mediterranean blue. As you drive down the Newton Road in Torquay today, you cannot help but see the Richwood!