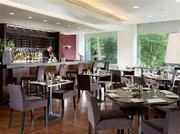 The Lancaster London Hotel
Lancaster Terrace
London
England
W2 2TY
Tel: +44 (0)20 7262 6737
Fax: +44 (0)20 7724 3191

Few city-centre hotels can boast a better location than this, with the 600 acres of Kensington Gardens and Hyde Park just across the road, while the West End shops and theatreland are only minutes away.
Its 416 bedrooms have superb views over the Park and the London townscape, and feature all modern amenities including high-speed internet access.
The Lancaster London houses two award-winning restaurants – Nipa, one of Britain's best Thai restaurants, renowned for its mouth-watering cuisine and welcoming ambience, and the stylish, contemporary Island Restaurant and Bar, which offers an excellent selection of Modern European dishes, cocktails and wines to suit every taste.
With the nearby Heathrow Express terminus making London's principal airport a 20-minute journey away, the Lancaster London is the ideal choice for travellers to the heart of London.