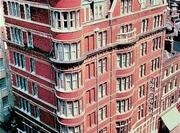 The Kingsley by Thistle
Bloomsbury Way
London
England
WC1A 2SD
Tel: +44 (0)845 305 8306
Fax: +44 (0)845 305 8345

The unique setting of The Kingsley blends contemporary comfort and Edwardian charm, and its luxury bedrooms and affordable rates are definitely something to write home about!
With an eye toward the surrounding Bloomsbury area in London's West End, last year we started an extensive £10 million restoration and refurbishment programme at the hotel which completed in July 2009.
The investment has seen our Edwardian facade lovingly restored and bedrooms completely modernised with a vibrant colour palette of rich reds, greys and creams, stylish contemporary furnishings and state of the art technology, including LCD TVs.
Post-refurbishment, The Kingsley offers room rate discount deals and special offers to complement the upgrade packages of the Hotel. The public area of this Bloomsbury hotel features a new restaurant and bar which offers a twist of traditional Edwardian charm with modern furnishings and soft atmospheric lighting.
Our 7 meeting rooms and conference facilities haven't been left untouched either with new stylish contemporary furniture, diverse lighting systems and the highest quality AV equipment, all installed to provide an aspiring and productive environment.