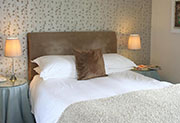 The Kings Head Inn
The Green
Bledington
Oxfordshire
England
OX7 6XQ
Tel: +44 (0)1608 658365
Fax: +44 (0)1608 658902

Ideally situated just 3 miles from The Wychwood Golf Club.
It's a genuine pleasure to walk into The King's Head Inn at Bledington. There's no need to invent a 'theme' for our remarkable, privately-owned Cotswolds inn, as it dates back to the 16th century, when it was originally built as a cider house.
Open fires welcome you in the winter, as you enjoy a local ale around the bustling bar or perhaps a warming meal. In the spring and summer, you may find that you and your friends spill out onto the famous and gloriously picturesque village green. In short, it's the classic English pub that you always hope you'll find, but seldom do.
The King's Head is a great place for a relaxing drink or an award-winning meal, but its twelve attractive bedrooms also make it an excellent place to stay if you're visiting from outside the Cotswolds.
As our guest, you have an excellent choice of accommodation at The King's Head Inn. On the one hand, it's possible to stay above the pub in rooms that have a real individuality and charm. If space is more of a consideration, however, we have six further rooms in the courtyard – all of which accommodate king-size beds.
Whichever option suits you best, you can be sure of a comfortable stay in a room that has its own distinct character. Our owners Nicola & Archie Orr-Ewing have personally overseen the decoration. We've also ensured that every room has its own bathroom, TV, hairdryer, tea and coffee making facilities and wireless internet access.
Here at The King's Head, we believe in wholesome, hearty and traditional English food, served with a touch of flair and a spark of imagination. Our chef is always looking for the very best local ingredients and has worked hard to create some very popular mainstays.