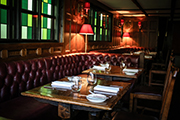 The Hind's Head
High Street
Bray
Berkshire
SL6 2AB
Tel: +44 (0)1628 626151

Here at The Hind's Head we serve three menus, the Mary, the Aleyn and the Elizabeth. Each features a variety of matchless classics of British cuisine, cooked with the skill, precision and flavoursomeness and originality you'd expect from Heston Blumenthal.
Our menus change every four to six weeks, to explore and celebrate the best of traditional British cooking, and to reflect our chefs' ongoing creative reinvigoration of classic dishes.
We can cater for all diets and our team will check your requirements before your arrival.
The Royal Lounge

We encourage you to spend some time upstairs in our fantastically furnished Royal Lounge bar. Decked out with luxurious armchairs, stained-glass windows, wooden beams, Persian rugs and decidely different decor (some untypical taxidermy and fanciful family portraits grace the bottle green walls). The Royal Lounge has the comfort, relaxed atmosphere and elegant eccentricity of a long-established English club – the ideal dramatic backdrop for a drink or two.
Browse our drinks list for wine, champagne, refined spirits, classic and small-batch gins or one of our specially composed cocktails. And, should you care to eat as well as drink, we offer a menu of bar snacks prepared by The Hind's Head chefs.
The Vicar's Room

A dining table hewn from a single trunk of oak sits amid wood-beam walls, seating up to 18 guests, illuminated by a pair of parlour chandeliers depicting likeness of Queens Mary and Elizabeth – the Vicar's Room captures the character of its historical setting, making it a truly atmospheric place for a private dining experience without parallel.
We have a selection of menus to choose from which change each month and can of course cater to dietary requirements.
There is no minimum spend to use the room, all we ask is for a minimum of 10 adults.
Restaurant Opening Hours
Monday to Saturday
12:00pm – 2:15pm, 6:00pm – 9:00pm
Sunday
12:00pm – 3:30pm
Lounge & Bar Opening Hours
Monday to Saturday
11:30am – 11:00pm
Sunday
12:00pm – 6:30pm