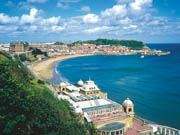 The Grand Hotel Scarborough
St. Nicholas Cliff
Scarborough
North Yorkshire
England
YO11 2ET
Tel: +44 (0)845 838 1004
Fax: +44 (0)845 838 0723

The Grand Hotel in Scarborough features LIVE Entertainment each evening, and is one of the town's landmarks. Located in the town centre, the Grand Scarborough Hotel takes pride of place overlooking the town's harbour and South Bay.
Built in 1863 as one of Europe's first purpose built hotels, The Grand Scarborough Hotel boasts superb architecture with the design rumoured to be based on the theme of time. Four towers represent the seasons, 12 floors represent the months, 52 chimneys to represent the weeks and originally 365 bedrooms to represent the days of the year. Recently, the hotel has re-opened the 6th and 7th floors featuring 40 brand new bedrooms and 3 Tower Suites featuring 360 degree panoramic views of Scarborough.
An ideal Hotel in Scarborough, from which to enjoy beautiful sandy beaches, promenade walks and seaside rides and entertainment. Relax in the comfort of one of the Hotel's bars and restaurants and enjoy some of the best views in Scarborough. The Scarborough Hotel offers superb entertainment throughout the year including cabaret and theme weekends as well as resident entertainers.
Like the other Grand hotels Scarborough is located in one of the most popular seaside resorts in England and has many attractions to suit the whole family. Visit the historic Scarborough Castle, enjoy clean and safe beaches or walk along the promenade with it's typical seaside amusements and attractions. Children will love the Atlantis outdoor water park and the Sea Life Centre in the Harbour. The famous Scarborough Spa and gardens provides a relaxing haven for all, whilst there are walks and golf courses for the more active visitors.
Grand hotel Scarborough Check-in is available from 4pm, and check out is by 10am.
Car Parking is available on the street for £4.50 a day, or alternatively a concession is available on the nearby NCP.