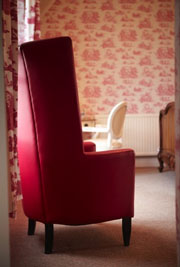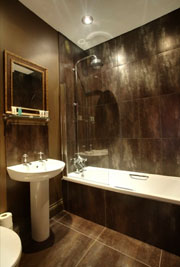 The George Inn
Church Street
Wedmore
Somerset
England
BS28 4AB
Tel: +44 (0)1934 712124

Welcome…
To a little bit of luxury in the beautiful Somerset village of Wedmore.
Our Grade II Listed home was transformed by us and our philosophy is simple: You are staying with us in our home, so please just ask us for anything you need.
Guests at the The George might have a strict time regime or may not even need to hear a clock ticking during their stay.
So, we don't hold you to ransom over when you must have breakfast, leave your room, or anything else!
The luxury is in the choice of food, the wine, the bed linen, the art on the walls and the people looking after you.
Our look is a mix of old and new furniture and art; combining colours and beautiful fabrics with original vintage features and existing distressed walls.
Cheaper materials are treated as precious items and preserved for their beauty and memory of the Inn. The relaxed atmosphere and pleasant surroundings sell themselves; you won't be disappointed!
We serve Real Ales from the cask, Butcombe Bitter & Sharpe's Doom Bar as well as Orchard Pig & Thatcher's Ciders, with Wilkins cider available seasonally.
We also serve a fine selection of Continental lagers.
Our food ingredients are sourced as locally as possible, and Seasonal produce is put to full use by by our award-winning head chef Richard Sampson and his team, allowing us to create great tasting food whilst maintaining variety.
All our bedrooms are doubles with en-suite facilities. Z beds are available at no extra cost for twin usage and a small additional charge if their use increases the number of room occupants above two. We will in the near future be expanding by a further five rooms. All prices include breakfast.
The rooms have been recently refurbished each in its own individual style, all with flat screen TV/DVD, hairdryer, iron, radio alarm with iPod dock and tea & coffee facilities.
The very comfortable beds carefully made up with high quality Egyptian cotton sheets will enable you to enjoy a restful night's sleep.
En suites either have a bath or large shower enclosure. Soft Egyptian cotton towels and complimentary bath and body products add to the comfort of your stay.