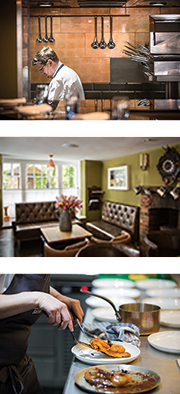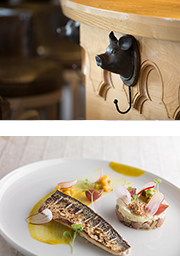 The Flitch of Bacon
The Street
Little Dunmow
Dunmow
Essex
England
CM6 3HT
Tel: +44 (0)1371 821660

The long history of the Flitch of Bacon has a new chapter. The restaurant has undergone a sympathetic restoration to become a restaurant with rooms. Chef Daniel Clifford, who lives nearby and is behind the Flitch's new lease of life, welcomes you.
What awaits you at the Flitch? A relaxed atmosphere in which to enjoy amazing food and a wonderful drinks list with family and friends. Three charming rooms are available to extend your stay to include breakfast and an opportunity to explore the surrounding countryside.
Behind our beautifully balanced dishes are some wonderfully simple things; ingredients selected at their seasonal best and sourced from farms, growers and suppliers with a genuine passion for what they produce.
Our food is a great expression of the seasons. The riches to be found within the local area provide ingredients of such quality that every day brings excitement to the kitchen door. The menus are a delight for anyone that enjoys classic elements elevated to a memorable level by a chef with an empathy for the elegance of simplicity. Putting pure pleasure on a plate is the ambition for diners at the Flitch.
Situated at the side of the pass, the kitchen table seats just two, but provides a view over the pass into the kitchen. Enjoy watching the brigade at work as dishes take shape whilst you dine on the fruits of their labours.

Our three sumptuously furnished rooms each bear the name of a rare pig breed. Locally handmade toiletries, big fluffy towels, rich décor, sumptuous textiles and sleep inducing beds await…

Our wine list is selected to allow us to match the perfect accompaniment to your chosen dishes or for the pure pleasure of drinking wine. Our cellar has many very drinkable wines and extends to fine wines for the connoisseur.
The Flitch of Bacon is the little sister of Midsummer House, Daniel Clifford's two Michelin-starred restaurant in Cambridge.