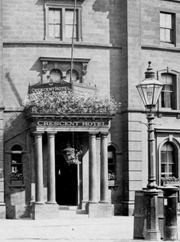 The Crescent Inn
Brook Street
Ilkley
West Yorkshire
LS29 8DG
Tel: +44 (0)1943 811 250

The Crescent Inn is a collection of 14 affordably priced, boutique bedrooms in the heart of Ilkley, set above our contemporary pub and French Bistrot.
You'll find a selection of ever changing real ales in the pub, quality wines by the glass and honest home-cooked food, including light bites through to pies, curries and Sunday lunches.
Whether it's a casual catch up over lunch, a special occasion, mid-week or weekend evening dinner, the main restaurant, Bistrot Pierre offers a charming environment in which to enjoy affordable French style bistrot dishes freshly prepared by its chefs every day.
Open 7 days a week for breakfast, lunch and dinner, Bistrot Pierre have dishes to suit all tastes. Why not try their incredibly popular 1, 2 or 3 course prix fixe lunch menu from just £9.95, which changes seasonally or their 2 course early evening fixed price menu for £15.95. Every evening there's even more to enjoy from our extensive evening menu.
Enjoy great-value French provincial cooking and seasonal menus featuring bistrot classics such as steak-frites, boeuf bourguignon and the well-loved crème brûlée, alongside an assortment of regional favourites all freshly cooked by a team of talented chefs every day.
At Bistrot Pierre there is something for everyone, including plenty of gluten-free, vegetarian and vegan dishes too.
If you'd like to book a stay or table, simply book online at bistrotpierre.co.uk