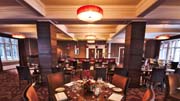 The Abbey Hotel
Abbey Road
Great Malvern
Worcestershire
England
WR14 3ET
Tel: +44 (0)1684 892332
Fax: +44 (0)1684 892662

The Abbey Hotel is based in Great Malvern in Worcesterhire. The setting is one of the most perfect in the country. It is close to a number of interesting and historical cities, yet situated right in the heart of the tradtional English countryside, at the foot of the Malvern Hills in Worcesterhire. With sensational views of the scenic Vale of Evesham and beautiful Malvern Hills, the hotel offers you a tranquil haven in which to relax and retreat. 

Whilst at The Abbey you can enjoy the refurbished restaurant with a new chef and a new menu and treat yourself to a wonderful dining experience in The Priory View restaurant, every Sunday The Abbey Hotel serves a tradtional English Sunday lunch buffet. This is becoming very popular with the locals, so do as the locals do and join us on a Sunday. The Priory View lounge is also an excellent place for a coffee, Afternoon tea or a nice refreshing pint after your walks on the hills. The Malvern Hills are known for their amazing walks and views, and The Abbey Hotel offers a haven for all those walkers and non walkers alike.
The Abbey Hotel offers superior event and meeting facilities. Leisure travellers will find spacious bedrooms with plenty to do in the surrounding area, including visits to interesting cities such as Birmingham and Worcester, which are only a short distance away, and walks up the many hills.
The Abbey Hotel has a long history of welcoming guests and takes pride in providing an attentive service and warm hospitality to everyone.

The Abbey is an exceptional venue for all your private or corporate functions. With 7 conference rooms, all with natural daylight. The flexibility of the rooms makes it an ideal choice for conferences, training, business meetings, dinner dances, specialist packages, Masonic evenings, dance weekends and weddings.
Please note: The Abbey Hotel is completely non smoking.