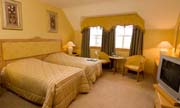 Teach De Broc Country House
Links Rd
Ballybunion
Co. Kerry
Ireland

Tel: +353 (0)68 27581
Fax: +353 (0)68 27919

Teach de Broc is not just another guesthouse. From the truly personal service to the cosy, contemporary surroundings, every detail is arranged for your comfort. For just a few days, leave behind the pressure of everyday life, relax, and let us take care of you.
Everything about Teach de Broc says relax. Settle into your room and appreciate the dramatic views over the golf links. Linger over a lavish breakfast or read a book in the sun. A short stroll from Teach de Broc, Ballybunion beach welcomes the early morning jogger, the all year round swimmer, the optimistic sun worshipper and those with a penchant for photography. This beach, with the ebb and flow of the powerful Atlantic Ocean could well be the highlight of the trip for those who are less inclined to golf.
All Bedrooms in Teach de Broc are fitted to a 4**** standard, and include en-suite bathrooms, complimentary toiletries, quality beds, freshly laundered bed linen and hypo-allergenic pillows to ensure a restful night. All guestrooms have direct dial telephones, cable television, hair-dryers and a trouser press, we also provide our guests with a daily laundry service. All our rooms can be accessed by our elevator, and we provide our guests with a secure golf club storage facility. Teach de Broc has a telephone facility enabling callers to avail of the services of AT&T, Sprint and more.
The two courses in Ballybunion are positioned on the same terrain and separated by Ballybunion's imposing club house. Teach de Broc is ideally located directly across from this wonderful expanse of Sand dunes. The intricacy of both courses complemented by the beauty of their coastal location contributes to Ballybunion's consistent ranking in the world's top ten courses. Teach de Broc offers the seasoned golfer quality **** accommodation. This golfer's haven is the ideal base for golfers with easy access to Lahinch, Doonbeg, Tralee, Waterville & Dooks golf courses.
We at Teach de Broc can arrange golf Tee-Times for confirmed clients.