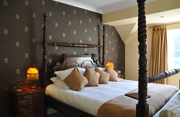 Sychnant Pass Country House
Sychnant Pass Road
Conwy
North Wales
LL32 8BJ
Tel: +44 (0)1492 596868

Welcome to Sychnant Pass Country House set in three acres of landscaped gardens on the edge of the Snowdonia National Park. Ideally situated less than 4 miles from Conwy Golf Club and only 6 miles from North Wales Golf Club.
Framed by some of the most beautiful and dramatic scenery Wales has to offer, our privately owned country house has the feel of a remote rural hideaway and yet is just a short drive from the main A55 making it easily accessible all year round.
Our 12 double rooms, named after traditional Welsh hymn tunes, all have ensuite bathing facilities and come equipped with combinations of roll-top baths, whirlpool baths, corner baths, and single and double showers to suit all tastes. Two of our rooms have outside hot tubs.
Our two galleried rooms are laid out on split levels allowing guests to separate their living and sleeping accommodation - and giving parents the option of having their own separate space while their children sleep safely down below.
Two of our superior suites have been designed with celebrations and special occasions in mind. Our Platinum Suite (Cwm Rhondda), for example, has a recessed Emperor size bed that can be curtained off from the main room affording a bride-to-be and her entourage the space and seclusion to prepare for the wedding ceremony or, the night before the big day, allowing parents to hold a private drinks reception for both families.
All have tea and coffee making facilities, flatscreen digital television, dressing gowns, slippers, hairdryer, iron and ironing board.
Hugh and Janet are delighted to welcome Gareth Dwyer as Head Chef at Sychnant Pass Country House. He brings with him a wealth of experience and is passionate about food of the highest quality. And, he is delighted to be back in a kitchen where the emphasis is firmly on fine dining.
Gareth is looking forward to developing new dishes for the restaurant as well as re-presenting some firm favourites.
The restaurant is open 7 days a week to non-residents as well as guests, though booking in advance is always advisable.
Sychnant Pass Country House has its own spa facilities, including indoor heated swimming pool with adjoining sauna, a gym equipped with cardiovascular equipment and a large outdoor hot tub which takes up to 8 people.