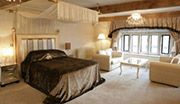 Stanley House Hotel & Spa
Mellor
Lancashire
England
BB2 7NP
Tel: +44 (0)1254 769200

Stanley House Hotel is a stunning, award winning hotel, set in 54 acres of Ribble Valley countryside in Mellor, Lancashire, just a mile from Blackburn Golf Club. With 30 first-class bedrooms, unrivalled wedding and conference facilities, the stylish Grill on the Hill restaurant, the hugely popular Mr Fred's bar and lounge and a world-class spa, Stanley House is truly a hotel like no other.
Our Grade II listed house comprises 12 large individually designed bedrooms, all with fantastic countryside views. Originally the manor house of Mellor, this building has been restored to its former glory and houses a serene private reception area, featuring a magnificent Inglenook fireplace, complete with wood burning stove. These 12 rooms won an Enjoy England for Excellence Award in 2004 for their character and specification.
We added 18 newly constructed bedrooms in 2012 called the Woodlands Rooms. Each luxury room is 36 sq.m and boasts a range of technological advances including a media hub and an in-safe laptop charging facility, along with large flat-screen TVs and complimentary WiFi. A walk-in shower and separate double ended bath also features in each room. The rural theme is reflected throughout the interior design providing a seamless transition from outside to inside.
A suite, family rooms and a dedicated disabled accessible room with twin bathrooms are also available.
The dining room is smart, relaxed and discerningly casual. Through the windows are the beautifully manicured lawns and gardens with views beyond to the Fylde Coast.
The menu has been carefully crafted by executive head chef, Steve Williams. The restaurant delivers serious, straightforward food, using the best Lancashire produce, award winning wines and international beers, delivered in stylish surroundings.
With an enviable location, Grill on the Hill offers today's discerning diner a memorable experience.
For some, the Spa at Stanley House Hotel provides a helping of relaxation away from the stresses of today. For others, a place to enjoy an unrivalled luxury self-indulgent experience. But for all, the Spa at Stanley Houses symbolises an exceptional lifestyle choice whether paying a visit as a local guest or as part of a destination break at the hotel.
Located deep in the heart of the Stanley House Ribble Valley estate, the spa opened in 2012 and was designed by some of the world's best spa consultants.
We drive for exceptional levels of service through a team of experts, spa therapies, products, activity and energy-giving cuisine – provided by our award-winning Stanley House master chefs.
The service we provide is not simply pampering. It is deeply knowledgeable and scientific, with our specialists ranging from highly trained facialists to masseurs and Pilate teachers.