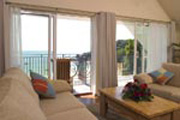 St. Brelades Bay Hotel
La Route de la Baie
St Brelade
Jersey
JE3 8EF
Tel: +44(0)1534 746 141
Fax: +44(0)1534 747 278

Everyone at this unique, family run hotel, takes pride in providing a wonderful holiday for all ages. Seven acres of award-winning gardens, two fresh water heated swimming pools, one especially for children. Tennis courts, sauna, gymnasium, crocquet, large play area. Somewhere for everyone. St. Brelades Bay is the safest bay in Jersey for swimming.
The Island's premier golf course is only five minutes away. For indoor amusement we have a snooker room with a full size table and for children a games room, a playroom and their own video/T.V. room. Please be aware that Mobile Phones are not welcome in our public rooms and gardens.
All bedrooms welcome you with a basket of fresh fruit. They all have a bath with shower, hairdryer, trouser press, remote control satellite T.V, radio, direct dial telephone with a baby listening facility, and modem points. There is a lift to all floors, exept for one section of the first floor. There are five "stunning" penthouses. AA 2007 Hotel Guide The Bay Suite is a delighful combination of bedroom and sitting room with a large balcony. The Superior Rooms are extra large bed sitting rooms with sea view and balconies.
All rooms at the front face the sea and the beach, most of these have balconies. The majority of those at the back of the hotel overlook our award-winning gardens, the remainder have a limited view of our gardens and this is reflected in the rates. The Communicating Rooms represent all aspects of position and are ideal for families. These rooms share a bathroom and, with the exeption of the rooms with communicating singles, can also be comfortably used for the adults. The entire hotel is non-smoking.