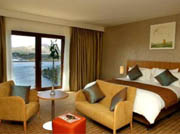 Sneem Hotel
Goldens Cove
Sneem
Co. Kerry
Ireland

Tel: +353 (0)64 6675100

Sometimes it's little things that tell you a lot about a place. At Sneem Hotel Kerry, it's the open fire that greets you in the hotels lobby, the warm welcome, and the genuine smile you'll receive from our hotel staff. Big things are important too, like a spacious, comfortable hotel room you can call your own, wide-open skies, and the endless seashores of Kenmare Bay in South West Ireland.
We're here at the 4 Star Sneem Hotel to make sure you have a great time in our little village of Sneem on the Ring of Kerry, where the good life is celebrated every day in the Kingdom of Kerry.
At Sneem Hotel Kerry check in, drop your bags, and escape...
We at Sneem Hotel on the Ring of Kerry have gone to great effort to make our luxurious guestrooms, suites, and self catering apartments so comfortable you'll never want to leave this Ring of Kerry gem. Sneem Hotel hugs the waters of Golden's Cove. All Sneem Hotel rooms either overlook Kenmare Bay, or offer sweeping views of MacGillycuddy's Reeks - Ireland's highest mountain range.
We can't promise that choosing from our restaurant menu here at Sneem Hotel will be easy, but we can promise a fantastic selection of fresh, local food. Our chef buys fish directly from local fisherman. You might even see the day's catch being delivered to the restaurant by boat. It's no wonder a customer favourite is a plate of oysters—still salty and cold from the sea—washed down with a creamy pint of Guinness.
For total relaxation or an energetic workout, visit our leisure facility. Soak your cares away in the hot tub, warm up in the sauna, or stay fit in the gym. Chilled wine or champagne can be delivered to the hot tub on request!