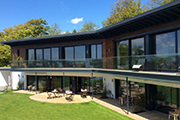 Skyhouse
Cuilfail
Lewes
East Sussex
England
BN7 2BE
Tel: +44 (0)7468 691 860

We are situated right next to Lewes Golf Course, close to Glyndebourne and just 15 minutes by train from Brighton, and offer fantastic luxury accommodation for golfers.
Skyhouse Sussex is a luxury Bed and Breakfast in a 'grand designs' eco home located in historic Lewes, East Sussex. We offer boutique guest accommodation, healthy breakfasts and beautiful surroundings in which to luxuriate and unwind. Ideally located for exploring the many attractions of Sussex and the South Downs National Park, Skyhouse is a healthy home designed with well-being in mind. You can enjoy an extraordinary level of comfort thanks to the use of natural, sustainable building materials.
Sink into our super comfortable beds, luxuriate in silky soft bed-linen and pamper yourself with designer toiletries from the Temple Spa range. Our individually designed bedrooms feature:
Super-king beds and a choice of pillows

Elegant en-suite bathrooms

Thick fluffy towels, under-floor heating

Flat-screen smart TV with free Wi-Fi

Fairtrade tea & coffee making facilities

Stylish open-plan living room for exclusive use by guests

Private seating area outside with views across the peaceful garden

Our three spacious guest bathrooms have been individually designed with luxurious fittings and bespoke Volimea splashbacks with a subtle sparkle. The facilities in each en-suite differ a little and comprise, respectively, a power shower, a double-headed shower, and a bath with shower. Please enquire about specific availability when booking with us.
Need to escape for a night with that special someone? Skyhouse is the perfect retreat for romance. Experience the beauty of the Sussex countryside, snuggle up in our luxurious bedrooms, take a long soak in a candlelit bath. We'll be only too happy to book a table for two at one of Lewes's many excellent restaurants. Special Offers available for Valentine's Day and Mother's Day.
At Skyhouse Sussex, being greener is a way of life that we'd love to share with you. Not only is the house incredibly energy efficient and low-carbon emitting, we also go the extra mile in running our B&B to care for the environment. Read here about our extensive range of 'behind the scenes' green technology and environmental initiatives.
Skyhouse Sussex is the first Zero Carbon* Bed and Breakfast in Lewes and amongst a small but growing number of luxury B&Bs in the UK which operate using sustainable energy. Completed in November 2014, Skyhouse is a one-of-a-kind building by German eco specialists, Baufritz. Put together at breath-taking speed over four and half days in May 2014, our pre-fabricated house was designed using low-carbon construction processes, sustainable timber, and other recyclable and biodegradable building materials.