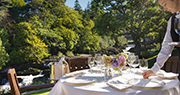 Sheen Falls Lodge
Kenmare
County Kerry
Ireland

Tel: +353 (0)64 6641600
Fax: +353 (0)64 6641386

A privately owned country house 5 star hotel in Kenmare, in the beautiful South West of Ireland. Within reach of three major airports of Shannon, Cork and Kerry. Just off the famously scenic Ring of Kerry. Ten minutes from the brightly coloured village of Kenmare and only 30 minutes from the vibrant town of Killarney. Surrounded by purple heathered mountains and cascading blue waters.
Spacious guest rooms and suites all affording superb views of either the tranquil Kenmare Bay or the cascading Sheen waterfalls. The luxury accommodations in the Sheen Falls Lodge offer the guests luxury and comfort in the south west of Ireland.
At Sheen Falls Lodge, there are several dining experiences available, from the elegance of the newly refurbished Falls Restaurant or a relaxing afternoon tea in one of our lounges.
Unwind in the luxurious Health Spa at the 5 star Sheen Falls Lodge, Kenmare. The treatments work on the body as a whole and promote a sense of well - being, alleviating stress and anxiety. Treatments include massage therapy, aromatherapy massages, body, face and beauty treatments.
The county of Kerry must be every golfer's paradise. Some of the golf courses are set amidst tranquil woodland with lakes giving beautiful reflections on still days; others enjoy breathtaking views over sea and strand with the benefit of invigorating sea air. For the romantic, there is no better place to play golf.
For the ambitious, satisfaction will also be found in the challenge of playing some of the finest courses in Europe which lie waiting to offer tough resistance to those who plan a good score card.