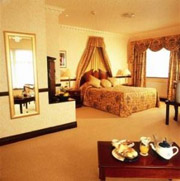 Seven Oaks Hotel
Athy Road
Carlow
Ireland

Tel: +353 (0)59 9131308
Fax: +353 (0)59 9132155

The Seven Oaks Hotel is one of the foremost hotels in Carlow and Ireland. From the moment you step into our magnificent reception area you will enjoy the warmest of Irish welcomes from our friendly staff, whose attention to your every need will ensure that you will want to return again and again to the Seven Oaks Hotel.
Conveniently located just 3 minutes walk from Carlow Town Centre, the Seven Oaks Hotel has long enjoyed an enviable reputation as one of the premier wedding and conferencing hotels in Carlow and Leinster. A large private car park, coupled with proximity to the local bus/train station, makes the Seven Oaks Hotel an ideal place to stay.
Our 90 individually- designed bedrooms offer every luxury, from double and family rooms to executive suites, all superbly furnished.