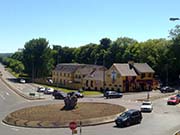 Roundabout Inn
Mallow
County Cork
Ireland

Tel: +353 (022) 218 15

Welcome to The Roundabout Inn Mallow

A family run Inn on the cross roads of Munster.
Conveniently located on the main Cork-Limerick, Cork-Kerry road, The Roundabout Inn offers the central location of Mallow Town - a very leisurely 5 minute stroll will take you to the centre of town - without the hustle, bustle and noise of a town location.
We offer 28 en-suite bedrooms, with Free Wi-Fi. ample free parking with a renowned restaurant open 7 day a week from 7:30am to 9:00pm everyday and a bar that offers all the craic you would expect from an Irish bar.
A home away from home The Roundabout Inn offers exceptional value, great location and wonderful food in a relaxed informal atmosphere - come and visit we'd love to have you.