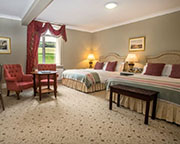 Rosapenna Hotel & Golf Links
Downings
Co Donegal
Ireland

Tel: +353 (0)74 91 55301
Fax: +353 (0)74 91 55128

It is here, where the bays of Sheephaven and Mulroy converge, that a unique experience awaits you.
The wild Atlantic waves have chiselled the rugged features of Rosapenna for thousands of years, the beauty is spectacular, the air is invigorating and the welcome that awaits you is warm and sincere.
This is Rosapenna Hotel and Golf Links where the waters meet the wild and 4 star luxury nestles amidst the rolling Donegal landscape.
Dun na nGall
The original Gaelic name for Donegal means the fort of the foreigner.
But whether you are visiting from abroad or from another part of the island, Rosapenna, with a warm and friendly welcome creates a congenial atmosphere for visitors to relax and enjoy themselves.
Tranquil lounges and elegant dining areas overlooking the bay combine to set the ambience.
Of course, when it comes to the hotels facilities, the Old Tom Morris and Sandy Hills Links take pride of place, then there's the 19th where the days activities are discussed and missed putts mourned.