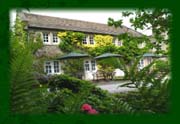 Riverside House Hotel
Fennel Street
Ashford-In-The-Water
Derbyshire
England
DE45 1QF
Tel: +44 (0)1629 814 275

A luxury Hotel with a sense of style and customer service from a bygone era - In the village of Ashford-in-the-Water in Derbyshire's Peak District, close to the Chatsworth Estate, the Hotel features an AA 2 Rosette Highly Commended fine dining restaurant, and tastefully decorated rooms with views over the river and gardens. The perfect canvas of tranquillity and halcyon calm; for a holiday, weekend break, corporate event, function, wedding or civil.
Set in an acre of mature, tranquil grounds, aside the gently meandering River Wye, this ivy-clad jewel of Stuart and Georgian architecture, with oak panelling and inglenook fireplaces, leather armchairs and the patina of 350 years of history, offers its guests the opulence and calm of a bygone era; a 'Hardyesque' retreat from the madding crowds. Our Manager, James Lamb, would like to extend a warm welcome to guests both old and new.
The hotel sits in a corner of the timeless village of Ashford in the Water, at the heart of the beautiful Peak District of Derbyshire - An ideal base from which to explore the rich heritage and activities the region has to offer.
A peaceful weekend retreat, a chat with friends over a fine meal, a romantic & superlative backdrop for a function, wedding reception or civil ceremony, a pragmatic business meeting with a touch of style, or a place to curl up with a good book and a fine cognac; whatever your choice, this idyll of peace, tranquillity and calm offers its guests an unforgettable experience.
Built in varying stages between 1620 and 1760, the hotel features an 'AA 2 Rosette highly commended' restaurant and bar, where our Master Chef, John Whelan, creates gastronomic delight using exciting, local and fresh ingredients, to inform classic and modern vibrant menus. Dinner is complemented by fine wines from our extensive cellar, and served at antique tables illuminated by candle-light.
The hotel features a range of tasteful, individual accommodation, with hand-made soft furnishings, private facilities, and completely unobtrusive audio-visual equipment - Most of the fourteen bedrooms afford views over the beautiful River and gardens.
We also offer a conservatory to relax in no matter what the Peak District weather may bring, and a floodlit croquet lawn for our more 'sporting' clientele.
In order to preserve the tranquillity of our patrons, we regrettably do not allow children below the age of 16.