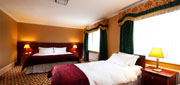 Riverbank House Hotel
The Bridge
Wexford
Ireland

Tel: +353 (0)53 9123611
Fax: +353 (0)53 9123342

Minutes from Wexford Town, the Riverbank House Hotel is just a short walk across the Slaney Estuary bridge from the thriving centre.
With stunning views of the river and the Wexford skyline the relaxed surroundings offer something different for those seeking a memorable experience.
From the beautifully manicured gardens, to the atmospheric and candlelit reception area with original Victorian furnishings, you are enveloped in a relaxed atmosphere, where thoughtful and helpful staff will ensure your stay, be it a few days or a few hours, is a delight.
The renowned River Bar has a spacious covered terrace overlooking the water, where you can choose from an imaginative yet traditional Irish menu, or simply have a drink and take in the trawlers and sail boats as the sun sets over the harbour.
Enjoy a round of golf in Wexford on some of the finest courses and links anywhere in Ireland. We can tailor make golf packages to suit your needs and party size to include accommodation, golf, dinner and entertainment. If you require further information or would like to make an enquiry please contact Andy Doyle on 053 9123611 or 0872295751