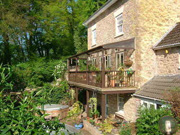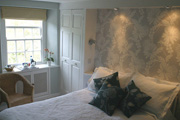 Prospect Cottage
Lower Wye Valley Road
Bigswier
Gloucestershire
England
GL15 6RR
Tel: +44 (0)1594530566
Fax: +44 (0)7876798788

Prospect Cottage is situated in an Area of Outstanding Natural Beauty and is ideally placed for visiting
Chepstow, Monmouth, Tintern Abbey, The Forest of Dean, Wye Valley and beyond to the Brecon Beacons.
We would like to invite you to share our home in this beautiful part of the Wye Valley.
Once you come down the mile long drive you will immediately start to unwind and relax in the peaceful surroundings.
You will be welcomed with afternoon tea on the balcony, perfect to enjoy this haven for wildlife.
A large number of birds are attracted to our feeders and most evenings badgers visit the garden.
Otters have been seen swimming past, seen recently by a guest.
Buzzards circle overhead, together with swallows, swifts & house martins in the summer.
Our resident owls will be heard calling during the night.
Prospect Cottage is bordering Offa's Dyke long distance path.
We are 10 miles, a comfortable day's walk, from the start at Sedbury Cliffs.
We can drop you off there and you know there will be an idyllic place to walk to and spend the night.
If you feel energetic, then the next morning walk further on towards Monmouth, Pandy and the Brecon Beacons,
Give us a ring so that we can pick you up.
As walkers ourselves we understand the pitfalls of a linear walk!
In addition, there are miles of footpaths in the surrounding area including the Wye Valley Walk.
We are a cycle friendly establishment and recognise the needs of all types of cyclists.
The CTC Lands End to John O'Groats route follows the Valley road and
The Forest of Dean is a mecca for mountain bikers as well as for leisure cycling.
There is secure cycle storage, bike wash and repair facilities.