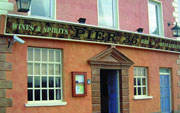 Pier 36
36 The Parade
Donaghadee
Co. Down
N. Ireland
BT21 0HE
Tel: +44 (0)28 9188 4466
Fax: +44 (0)28 9188 4636

Welcome To PIER 36, Donaghadee
Northern Ireland's Premier Seafood Pub Restaurant
Northern Ireland pub of the year 2004 & 2006
LCN Food Pub of The Year 2013
Having opened in September 1999 Pier 36 has gone from strength to strength.
Situated right on the quayside of one of the most picturesque harbours on the coast, Pier 36 attracts visitors from all over the world.
All of our bedrooms are en-suite and furnished to an extremely high standard, there is a complementary mini bar in every room, a large range of toiletries, plus a hairdryer and a coffee and teas maid. All rooms enjoy fabulous views over Donaghadee harbour.
A full laundry service is available on request and where possible we will provide room service to our guests.
Most rooms also include a plasma or LCD television screen and there is Sky TV in every room, we also have a free wifi service available and full range of fax and business services are available on request.
We also have two superior rooms, one an executive sized suite with stunning panoramic views over Donaghadee Harbour, 42inch plasma screen and living area, the other a beautifully furnished room with equally stunning views, large LCD Television and a stylish luxury bathroom with whirlpool bath.
"It may not be possible for a small guest house to have 5 star facilities however there is no reason why a small guest house cannot have 5 star customer service"
Customer service is at the core of everything we provide in our guest house, we demonstrate this to our customers in a number of ways including;
* There will always be somebody on hand to greet our customers with a friendly and informal hello, we strive to insure that this happens as and when the customer arrives, and that no customers are left unattended to for any length of time on arrival.
* Each of our guests will be shown to their bedrooms in person by a member of staff who will also, offer to carry baggage should the customer desire.
* Every breakfast is cooked to order and we do not have a set breakfast time. Indeed, a customer may choose to have breakfast to at whatever time suits them not us.
* All of our bedrooms are furnished to an extremely high standard.
* The services in each room include.Complementary mini bar, complementary tea and coffee making facilities, sky TV, and freshly laundered dressing gowns & sewing kit.